Solutions for Service Providers
PSTN Migration
Quick, Reliable and Cost-effective PSTN to All-IP Migration
AudioCodes' PSTN migration solutions are targeted at fixed-line service providers who are transforming their TDM fixed-line networks to All-IP. The solutions consist of a set of scalable CPE devices, central office gateways, and management and monitoring application suites, working seamlessly together and designed to enable fixed-line providers a quick, reliable and cost-effective path from TDM to All-IP services.
Any Deployment Scenario – Any Customer Size – Any Configuration – Any Application
AudioCodes enables fixed-line service providers the ability to benefit from a wide-range of PSTN migration solutions that cover:
Any on-premises CPE, street cabinet and central office (CO) PSTN to IP migration option
Any business customer size from SOHOs up to large enterprises
Any PRI, ISDN and analog interface and configuration
VoIP gateway, Session Border Controller (SBC), Routing and NFV applications
PSTN Migration Product Portfolio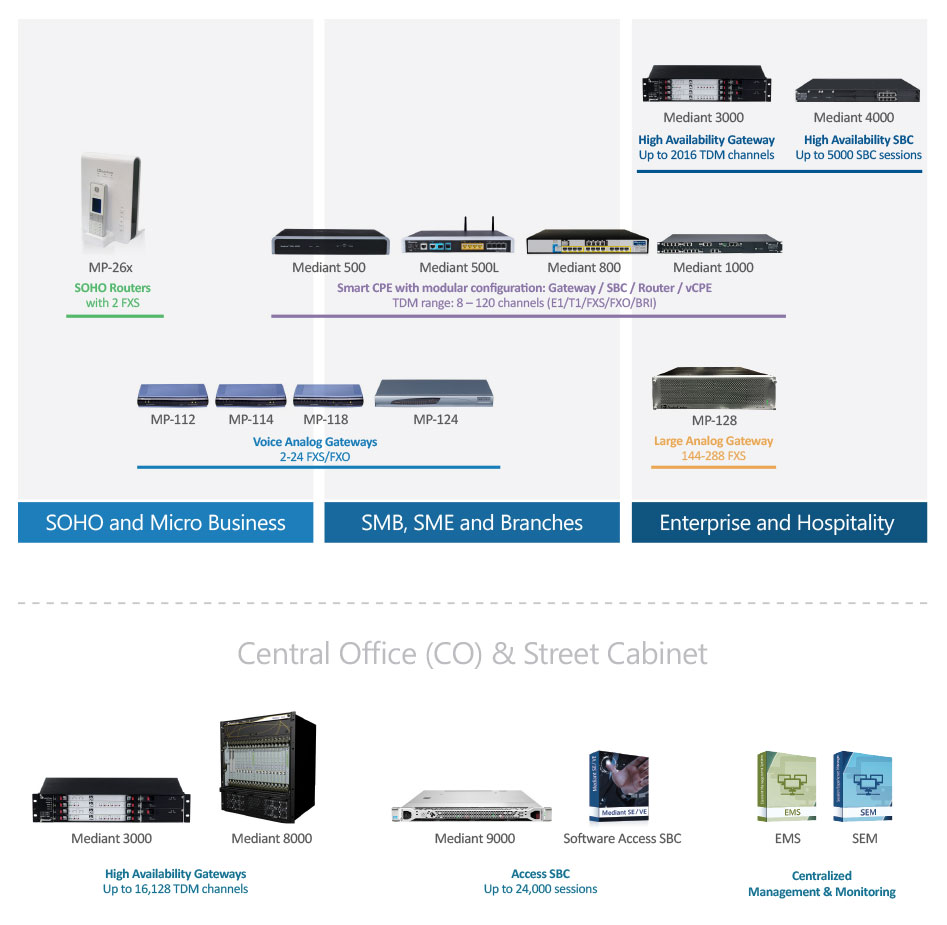 Cover any Deployment Scenario
A key challenge of PSTN migration is migrating 100% of the network while providing solutions for any customer type, size, or location that may be using existing telephony applications and services.
AudioCodes Solutions:
Address any customer size with a scalable solution from SOHO up to large enterprises
Support any topology type with ideally suited products that include on-premises CPE devices and central office gateways, integrated with modular VoIP, routing, SBC, and NFV applications support
Smart CPE Migration Approach

The IP network ends in the exchange or in the box near the customer's premises
A Trunking Gateway has to be installed at the CO or in the street cabinet
The customer does not always have to be informed when the migration is carried out
The customer can use his old PBX
Avoid Customer Churn
The customer-based footprint is the greatest asset of the fixed-line provider. It t is critical to minimize churn during the migration process.
Ensures minimum business disruption during the migration process with a quick installation of the new devices
Assures better QoS and better QoE with the new IP network

Minimize Migration Costs
The migration process is complex and long and requires detailed cost planning.
Reduces equipment and logistics costs by using a single provider
Reduces installation and engineering costs with a quick and easy deployment of the new devices, together with holistic management that saves the costs of on-site technician time and visits

Optimize Migration Time
Reduce the migration time of a large scale deployment
Quick installation and configuration of on-site devices is made possible by using wide-ranging interoperability devices, auto configuration wizards and zero touch provisioning
Remote management tools enable remote configuration and installation of new applications while saving costs of technician time and visits

Enable Future Cloud Services
Modular Design
AudioCodes' CPE unique modular design allows for remote installation of Gateway, Session Border Controller (SBC) and Routing applications in the same device as well as the activation of the most suitable configuration for the desired service. This unique design enables fixed line providers to first connect their customers to their SIP Trunking services quickly and with minimum disruption, while being able in the future to migrate these customers to cloud services without a technician needing to revisit the customer and reinstall equipment.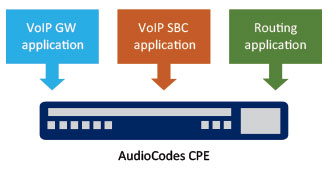 Hybrid Solution
The AudioCodes Hybrid CPE enables service providers to benefit from a coexistence solution that merges the on-premises PBX and the new Hosted PBX into a single telephony solution. This hybrid design allows for a gradual migration to Hosted PBX services while continuing to use the existing on-premises PBX system. The service provider benefits from reduced on-site technician time and from an improved cloud migration offering to the end customers.